SOAHR is the can't-miss conference of the year for anyone in
Human Resources or People Management.
SOAHR blends inspiration with practical application, and it's where you'll find the tools you need for success. You'll walk away with a fresh perspective, career-changing insights and countless connections.
Ready to unleash the future of HR in 2020?
Change is happening all around us, and it is unstoppable.
The role of HR will continue to evolve with a new set of challenges, a new market of tools, and an exciting new marketplace unlike anything we've seen in the past. Business Leaders will look to HR to help solve talent skill gaps and develop a strategic workforce strategy. Employees will rely on their HR Business Partners to create real-time development and career growth opportunities.
Are you ready for these new challenges?
Can you be uninhibited in your thinking, unconventional in your approach, unbiased in your implementation?
Absolutely – but that might mean getting out of your comfort zone. Let's face it, if you're not uncomfortable, you're stagnating.
Join us at SOAHR 2020 to unleash your limitless potential and challenge yourself to think differently about Talent, Culture, Employee Reward and Wellness practices, Business Analytics and Metrics, Compliance, and Innovation.

Stay on the cutting edge of Human Resources and People Management.
At SOAHR 2020 you can experience 50+ in-depth, trend-forward sessions and workshops. You'll leave the conference with pages and pages of actionable tactics that you can apply the minute you get back to the office, plus tons of strategies that you can bring back to your team.
You'll hear key insights and inspiring take-aways from leading experts and top-notch brands, including Google, Turner, Panasonic, Georgia Power, Metro Atlanta Chamber, Randstad, ADP and more.
Connect with your people and find your tribe.
At SOAHR 2020 you'll mix and mingle with hundreds of HR professionals, people managers, and business leaders from across ATL and the Southeast. We know how important it is to connect with others, so we schedule dedicated time for networking.
Plus, you have the opportunity to network with special communities like Rising Leaders (Young Professionals), Accomplished Leaders (Senior HR Executives), and the SHRM-Atlanta Mentoring Community.
Discover the Resource Partner Showcase
The SOAHR Resource Partner Showcase is our exhibit hall, and it serves as a dynamic hub of activity during the conference. It's where you'll discover new and innovative products and services, enjoy meals with friends, and have some fun.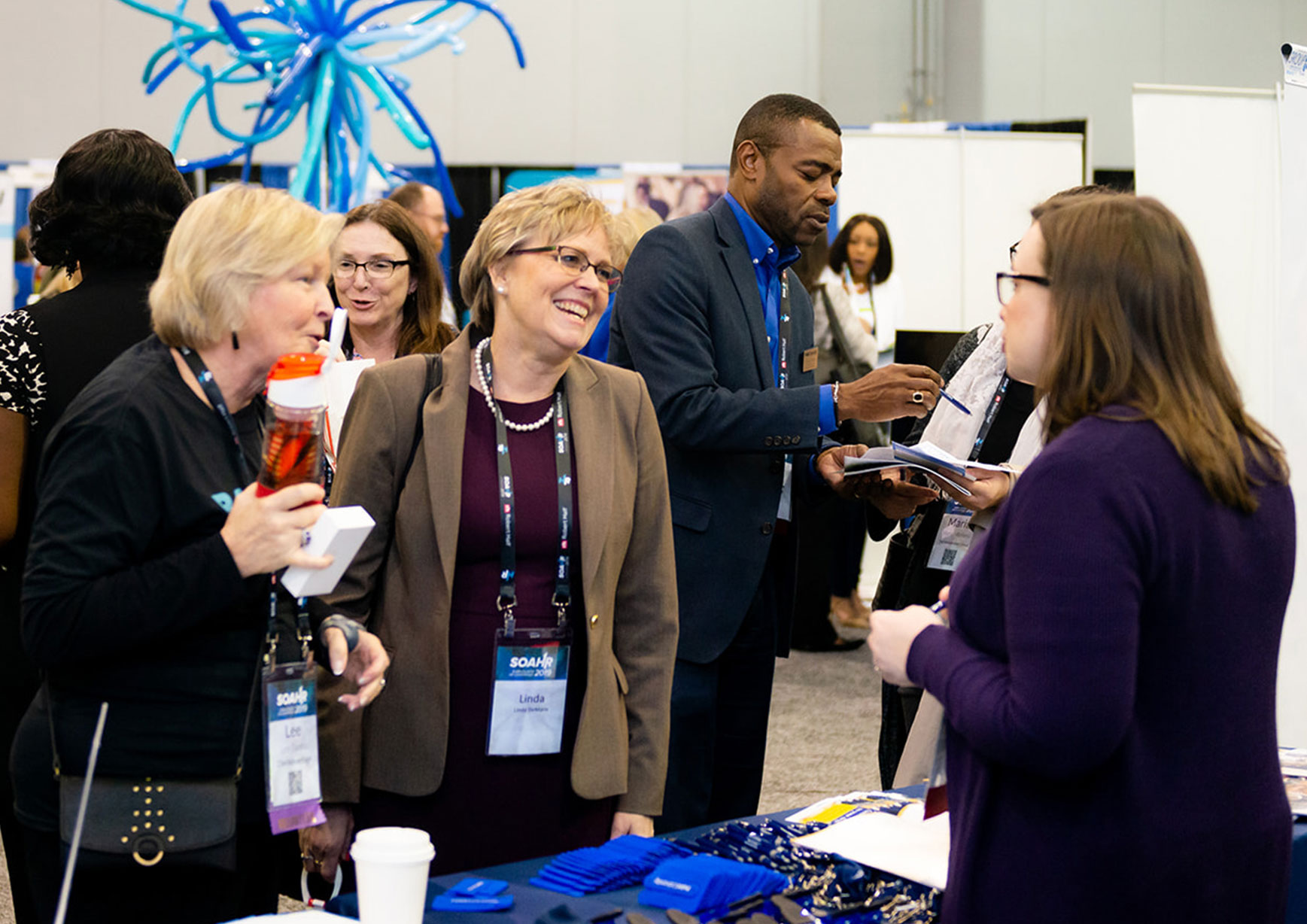 Ready to Unleash The Future of HR?
Join hundreds of other leaders that will be at SOAHR 2020.
SOAHR 2020 Latest News + Updates