SPONSOR + EXHIBIT
THE SOAHR 2020 EXHIBIT HALL IS OFFICIALLY SOLD OUT.
If you are still interested in sponsorship or advertising, feel free to join our waitlist should be able to add additional booth or see changes in current plans.
Reserve Your Space Today!
The SOAHR 2020 Resource Partner Showcase is your chance to reinforce your brand, launch new products and services, and network with the HR Industry's decision makers.
The SOAHR 2020 Resource Partner Showcase is a dynamic tradeshow environment where you will find the brightest Atlanta HR rock stars eager to discover new and innovative products and services, such as your own! The Showcase is designed to help you and your colleagues make new business connections and showcase the newest innovations in HR solutions and services. Make sure you are one of our 80+ participating sponsors and exhibitors, as the SOAHR 2020 Resource Partner Showcase draws hundreds of attendees with some of the most popular Conference activities, including lunches and breaks, headshot station, prize drawings, puppy cuddling, and more.
Check out what's in store for SOAHR 2020!
Gain direct access to decision-makers: Since over 90% of SOAHR attendees are involved in purchasing, face-to-face interaction in the Resource Partner Showcase (our exhibit hall) is powerfully effective in educating your target audience and impacting their purchasing decisions.
Showcase your line of products and recent innovations: SOAHR is the ideal platform for spotlighting your best solutions and delivering leading-edge products and technology to the HR community.
Elevate your company's brand: SOAHR provides a unique opportunity for your company or organization to gain prominence during greater Atlanta's largest gathering of HR professionals.
Share your expertise: The Resource Partner Showcase's interactive, educational environment is the perfect platform to educate, inform, and engage your buyers and put your products directly into their hands.
AUDIENCE PROFILE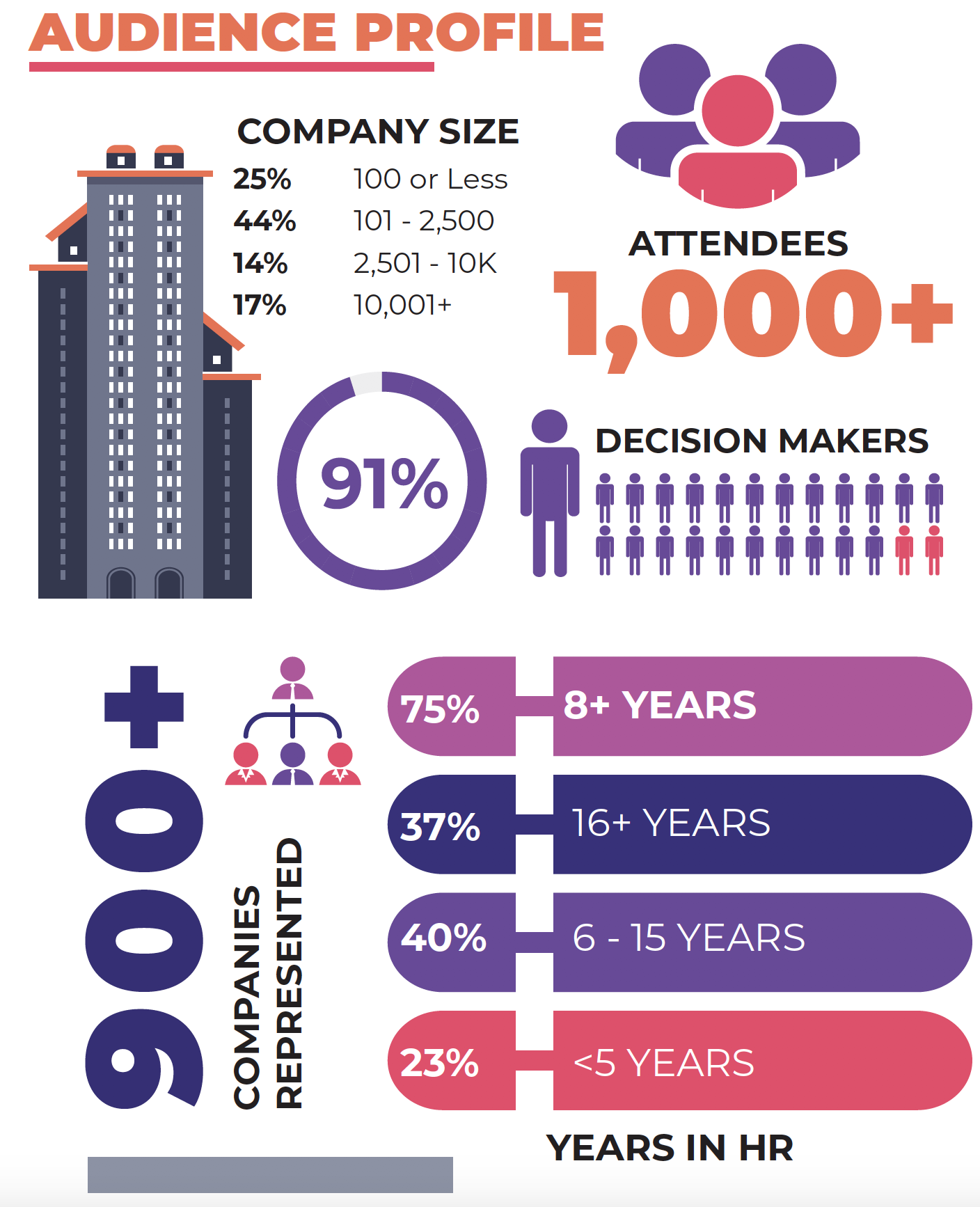 SPONSOR BENEFITS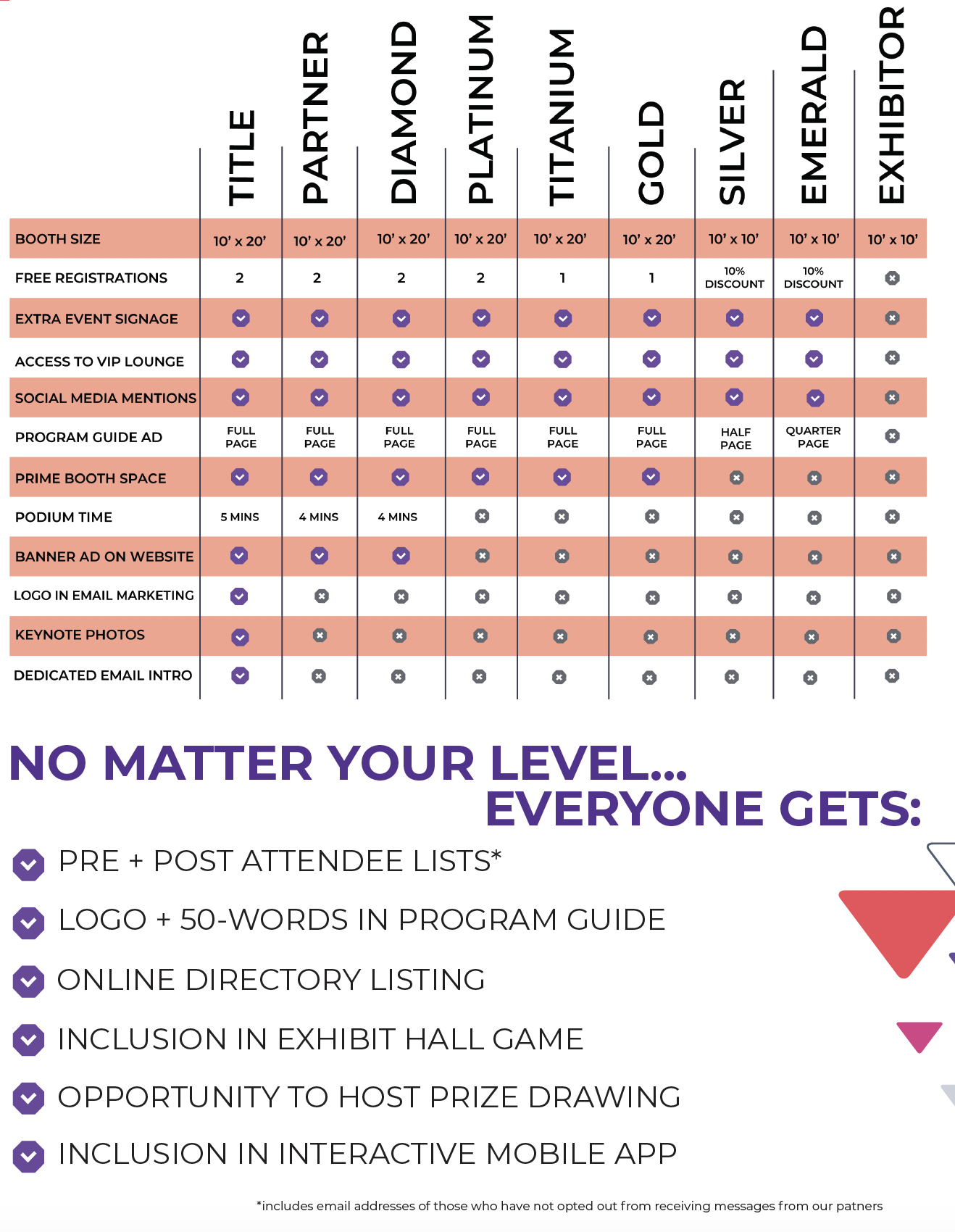 AVAILABLE SPONSORSHIP OPPORTUNITIES
Title Sponsor


$25,000

SOLD

Keynote Sponsor (1 remaining)


$13,000

Name Badge Sponsor

$13,000

Happy Hour Sponsor


$10,000

SOLD

Exhibit Hall Sponsor


$10,000

SOLD

Mobile App Sponsor

$8,500

Charging Station Sponsor


$8,500

WiFi Sponsor


$8,500

SOLD

Registration Sponsor

$7,500

SOLD

SOAHR Hub Sponsor

$7,500

SOLD

Gold Sponsor

$6,500

SOLD

Silver Sponsor (2 remaining)

$5,000

SOLD

Emerald Sponsor (5 remaining)

$4,000
All Sponsorship Levels include a 10'x10′ booth (Gold+ includes 10′ x 20′ booth)
EXHIBITOR PRICES