Get ready to celebrate SOAHR 2020 with your emcee, Teela Jackson, Vice President of HR Search at Talent Connections!
We sat down with this 20-year SHRM-Atlanta veteran to find out what she's looking forward to at SOAHR, hear some of her top tips for networking, and learn where she thinks the future of HR is headed.
How long have you been a member of SHRM-Atlanta? (And how many SHRM-Atlanta Annual Conferences have you attended?!)
I have been a member of SHRM-Atlanta since 2000, celebrating 20 years this year!  I've attended at least 14 SHRM-Atlanta Annual Conferences – wowzers!  
What are you most looking forward to at SOAHR this year?
I'm most looking forward to seeing the Atlanta HR community come together to celebrate the profession and unleash the future of HR together!
With so much to learn at a conference of this size, how do you pick which sessions to attend?
A great way of selecting sessions is to first reflect on your own personal and professional development goals.  That is your north star and from there, select topics you're curious about and those that address current events that may be happening in your workplace.
What sessions are you most excited about?
I'm most excited about Chris Havrilla's keynote session, "Technology's Role in Strategic, Transformational Leadership: Disrupt Yourself HR!" Chris is one of the world's foremost thought leaders on HR technology and she's a true disruptor who brings the perspective of sitting in the seat as an internal HR leader, she's incredibly well rounded and knowledgeable!  That is a can't miss session. I'm also looking forward to "Optimizing HR's Financial Resources" with Tim Goodly, Stacie Hagen, Vicki Lostetter and Tino Mantella. They've done a GREAT job of hand selecting Executive HR leaders that many look up to and learn in real digestible bites. You're sure to have solid takeaways from every session.
Do you have any tips for networking at conferences?
Set goals for yourself, it will ensure that you don't sell yourself short on one of the most valuable aspects of the SOAHR experience.  For instance, set a number of new people you'd like to meet, and a handful of deeper connections you'd like to make during the conference.  SHRM-Atlanta conference attendees are friendly and approachable, the networking opportunities are limitless!  This is the time to unleash your networking prowess, just look up and say hi. Bring plenty of business cards and upload your profile to the conference app!  The conference app and social media provide a great additional layer of real time networking opportunities!
The theme of SOAHR 2020 is Unleash The Future. Where do you think the future of HR is headed?
Organizations will continue the evolution of being more people, talent and culture focused.  HR departments are already starting to shift and move away from a pure cost center to a model that supports profit enablement.  HR will continue the evolution of being solutions focused and depth of knowledge around the talent lifecycle, total rewards and technology will reign supreme.
---
About Teela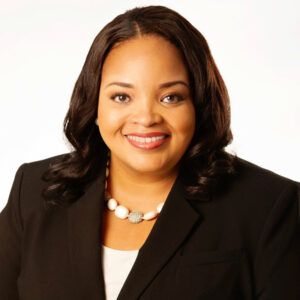 Teela Jackson is Vice President, HR Search with Talent Connections. Teela has been with the firm for 14 years and leads the HR Search Practice.
Teela has a passion for people, talent and organizational culture. She has channeled her passion coupled with a reputation as a trusted partner and leader to support organizational HR and business transformations. Teela effectively partners with senior leadership teams to evaluate and identify key HR talent needs in alignment with company goals and initiatives. With many repeat clients, she has a passion for top talent including established leaders, rising leaders and hard to find talent. Prior to joining Talent Connections, Teela worked for Georgia-Pacific, Turner Broadcasting and CIGNA.
Teela serves on the SHRM Georgia board and she's active in the Society for Human Resource Management (SHRM), the Association of Talent Acquisition Professionals (ATAP) and SHRM-Atlanta. She was the first African-American female President of SHRM-Atlanta and founded their Rising Leaders Community. She also served as Board Member for the Brian Jordan Foundation (retired Braves & Falcons player), she's an alumni honoree of Atlanta Business Chronicle's 40 Under 40 (2013) and has volunteered with numerous non-profits. Teela has been featured in various news and media outlets including the AJC, Atlanta Business Chronicle and 11Alive News.
Teela earned an MBA from Mercer University and a Bachelor's degree in Business/Human Resources from The University of Tennessee – Martin. Teela has called Atlanta home since 2000, she is originally from Nashville, TN.