Sign up today to volunteer at SOAHR 2018!
SHRM-Atlanta is issuing an open call for enthusiastic, outgoing SHRM-Atlanta members to serve as ambassadors, greeters, ushers, hosts, monitors and registration assistants at this year's conference. This team will help to make sure SOAHR 2018 goes off without a hitch and delivers a fantastic attendee experience.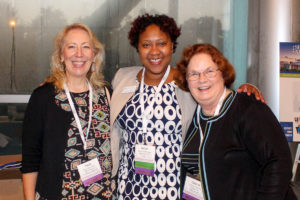 VOLUNTEER DESCRIPTIONS
Volunteers are crucial to the success of SOAHR 2018. Our goal is to ensure every attendee has a memorable experience from the time they walk through the door! Here is a brief description of the different volunteer opportunities and responsibilities:
Exhibit Hall Volunteers
Resource Partner Exhibitor Packet Assembler

Monday, March 26 only, help stuff Exhibitor info packets

Exhibit Hall Day 1 Volunteers

Ensure booth collateral is at the right booths, helping exhibitors find their booths, ensuring materials have arrived, answering questions and going over the exhibitor packets with each booth.
Integral in the grand opening at 10:30 AM (those assigned to the back of the hall will assist with food lines and congestion)
Engaging with each exhibitor in their section, asking for feedback and also secret shopping and taking notes on engagement levels of exhibitors, and encourage attendees and exhibitors to stay for our Happy Hour Reception located in the Exhibit Hall, hand out drink tickets

Exhibit Hall Day 2 Volunteers

Responsibilities include engaging with each exhibitor in their section, asking for feedback, as well as "secret shopping" and taking notes on engagement levels of exhibitors and answer any questions related to breakdown.   
Social Media Volunteers
Social Media Volunteers must have experience on multiple social media platforms and be knowledgeable about protocol and best practices for each platform (use of hash tags, re-tweeting and attribution, tagging, etc.). Volunteers must be on site for the duration of the conference. Volunteers will use their personal social media accounts and should post content/photos/videos on at least 2 platforms, with 4-6 posts per day for each day of the conference.
Book Signing Leader
Manage all aspects of those speakers who have book signings, including ensuring the table is set-up and ready, and help keep the line moving.
Room Manager
Identify the speaker and room sponsor, and introduce yourself
Walk the speaker/sponsor through the AV – test all, make sure speaker knows how to use it
Document session data (evaluation binder)
Run the microphone if there is audience participation (if applicable)
Help hand out materials to participants (if applicable)
End the session reminding participants to visit sponsors
Registration
Greet attendees/speakers/exhibitors find appropriate name badge, and give out appropriate bags and information
Greeters/Ushers
Create the first positive experience for attendees by greeting them, helping them find where they need to go, and/or finding empty seats in classrooms
Information Table
Act as a show ambassador, help people find their classroom, provide information about the conference and/or SHRM-Atlanta.
IMPORTANT INFORMATION
If you are selected, you will receive a discounted registration rate of $200!
As a volunteer, you will be required to work one full day of the conference, and then you can attend the second day at your leisure. We will do our best to schedule you in the area and on the date that you request, but we cannot guarantee a specific day or assignment.
Volunteer Requirements:
Volunteers must be SHRM-Atlanta members in good standing at the time of the conference.
Volunteers are required to attend an orientation and help stuff bags on Monday, March 26, 2018 from 2-4 pm.
Volunteers must be available to work 5:30 AM – 4:30 PM on Tuesday, March 27 or Wednesday, March 28. The shift will likely not last the full day, but having availability will ensure your spot to volunteer.
SHRM-Atlanta will choose volunteers based on conference needs and volunteer availability. Volunteer sign-up will be open until January 19, and those selected will be notified by February 2, and must make full registration payment by February 16, 2018.
Questions? Email us at info@shrmatlanta.org