Get MORE out of your conference experience!
Start your learning exploration a day early with this highly interactive, focused pre-conference workshop. This session is a great way to stay ahead of the curve by gaining access to information you won't find anywhere else. Plus, you'll earn while you learn. All pre-conference workshop attendees will earn an additional 3.5 SHRM PDCs/HRCI CEUs.
Space is limited to ensure small group interactions, so be sure to register for this pre-conference workshop early!
Structured Thought and Communication
Monday, March 26, 2018 | 12:00pm – 4:00pm | Cobb Galleria Centre
Recertification Credits: 3.5 SHRM PDCs/HRCI CEUs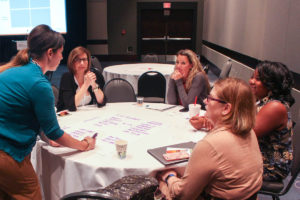 If you want to get to "yes" efficiently and effectively, this course is exactly what you need. Learn a method for defining and analyzing an idea as well as how to successfully create, communicate, and gain support for initiatives through the application of an efficient, effective analytical approach. Mike Figliuolo's book The Elegant Pitch: Create a Compelling Recommendation, Build Broad Support, and Get it Approved is based on this highly-rated program.
Participants learn how to:
Create and define a "core idea" they want to get support for
Build logic to support that "core idea"
Define the analyses required to support that "core idea"
Draft and discuss their "story" with key stakeholders
Package their "story" in a variety of formats (presentation, memo, email, etc.)
The course consists of instructor-introduced concepts and practical application exercises. The target audience for this course consists of individuals in analytical or persuasive roles at mid- to senior levels of corporations (e.g., analysts, managers, mid-level executives). The value of this course to the participants and to the organization as a whole are:
Clearer communications leading to more efficient and effective decision making and reduced decision making time
More efficient analysis and less re-work which leads to higher productivity
Crisper thinking which eliminates low-value work and prevents pursuit of low-value ideas
HOW TO REGISTER
This highly individualized session is not included in the conference registration. SOAHR attendees pay a discounted rate of $75 and your discounted rate will be available for you to purchase when you register for your general SOAHR admission.
Non-attendees will pay a rate of $129.