Innovation ● Motivation ● Performance
Achievement ● Creativity ● Transformation
Do you know an HR hero?
Help us showcase the best and brightest in HR by nominating someone for a SHRM-Atlanta IMPACT Award! The IMPACT Awards bring well-deserved prestige and recognition to HR professionals and teams in the greater Atlanta area for their innovation, achievements and impact to their business or the community.
The annual SHRM-Atlanta IMPACT Awards recognize individuals or teams in the profession of Human Resources whose actions or initiatives have demonstrated outstanding impact and benefit – above and beyond normal expectations – to their business or the community. Nominees and their initiatives should reflect significant contributions through IMPACT: Innovation, Motivation, Performance, Achievement, Creativity or Transformation in the work being recognized.
Nominations for 2018 are open until January 19!
Benefits
IMPACT Award winners receive recognition in front of a large audience of HR professionals at SOAHR: SHRM-Atlanta's Annual HR Conference. All winners will be featured on the SHRM-Atlanta website and submitted for recognition to local news agencies.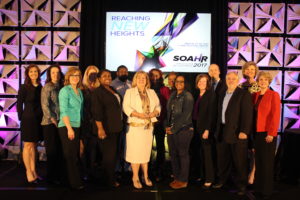 Judges
Applications will be evaluated by a panel of volunteer judges. The panel will evaluate submissions in respect to the values of IMPACT: Innovation, Motivation, Performance, Achievement, Creativity and Transformation and look for the following initiatives:
Leadership
Community Involvement
Project Management
Organizational Change