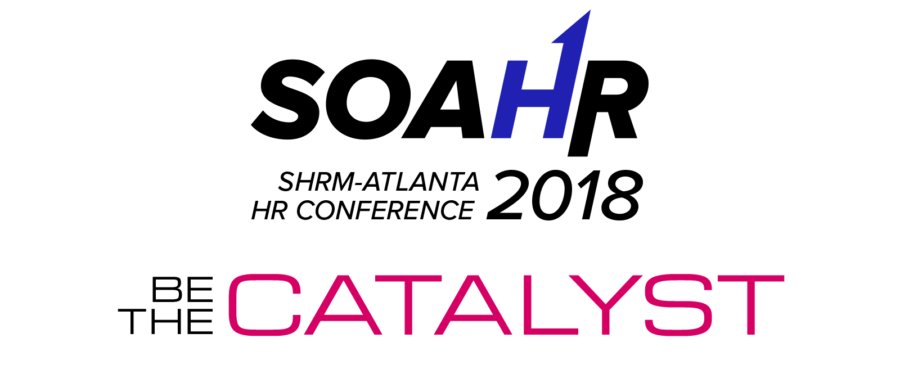 March 27-28, 2018 | Cobb Galleria Centre | Atlanta, GA
CATALYST
noun | cat·a·lyst | ˈka-tə-ləst
an agent that provokes or speeds significant change or action
The definition of catalyst is someone or something that causes or speeds significant change or action. HR Professionals are often tasked with introducing and supporting organizational change; and have sometimes been accused of being the most resistant to change. Do you and your team have the tools you need to take action?
Whether you love change or you'd rather avoid it, SOAHR 2018 is designed to support HR professionals as catalysts. Our conference team has identified an outstanding lineup of facilitators who will challenge and inspire those who are new to an HR career, emerging as leaders, and accomplished tenured practitioners.
I have been attending for several years and always enjoy and learn something new.  Plus it is great to catch up with past colleagues.
SHRM-Atlanta has so upped it's game in the last several years. It has become one of the most professional business minded organizations in existence. THANK YOU!
Well done – looking forward to the next one. High quality speakers and excellent resources in the Exhibit Hall to solve my daily challenges.
With this being my first year attending I found it to be very energizing, informative, and lots of variety.
All in all, thank you, excellent job – the topics were on target and inspiring & I felt my time was well spent and I made new contacts and friends.
Great conference. I learned so much and feel motivated when returning to work.
It was a great conference and I enjoyed the sessions I attended. It was hard to choose which ones to attend!
Loved the event – so well organized! I loved attending the welcome reception and met some great contacts.
Great programming and engaging speakers.  Can't wait until next year!