Bookmark this page for quick access to attendee information!
Enhance your experience at SOAHR 2018 – download the official conference mobile app today! The app provides important conference updates and information, as well as multiple ways to connect with attendees, speakers and exhibitors.
Don't miss these happenings at SOAHR 2018!
SHRM-ATLANTA CATALYST SPACE
Come hang out! The new SHRM-Atlanta Catalyst Space is a space created just for YOU – our attendees. Stop by and take a load off while you charge your phone, network with peers, or enjoy a quick snack. You can also learn more about SHRM-Atlanta membership from some of SHRM-Atlanta's Volunteer Leaders.
NEW! CHARGING STATION
Stay connected while you're at SOAHR. Complimentary charging stations sponsored by Ogletree Deakins are conveniently placed in the SHRM-Atlanta Catalyst Space.
CONFERENCE WATER BOTTLE
SHRM-Atlanta & MARTA have partnered to keep you hydrated on-the-go during (and after) SOAHR. Stop by the SHRM-Atlanta Catalyst Space to pick up your complimentary official SOAHR 2018 Water Bottle.
HEADSHOT TRUCK
The Headshot Truck will be providing complimentary headshots on Tuesday & Wednesday in the Resource Partner Showcase. Be sure to stop by and get an updated shot for your LinkedIn profile!
CATALYST PASSPORT GAME: WIN GREAT PRIZES!
Collect passport stamps while you explore the exhibit hall and network with our great Resource Partners. You can trade in your passport for raffle tickets and a chance to win some awesome prizes!
HAPPY HOUR SPONSORED BY WAGEWORKS | TUESDAY, 5:30 – 7:00PM
Join us in the Resource Partner Showcase for the official Happy Hour of SOAHR 2018! This is a great opportunity to network with your colleagues, unwind, and avoid traffic. Light refreshments and a cash bar will be available. Plus, you'll get a chance to watch a chalk artist complete live art as well as capture memories with friends and colleagues at our fun photobooth. Your first drink is on us!
PUPPY CUDDLING
Did you know that petting a dog can help lower your heart rate and relieve stress? Take a break from learning to relax and cuddle with a puppy! SHRM-Atlanta partners with LifeLine & Dekalb Animal Services to bring you all the warm fuzzy benefits that puppies have to offer.
HR CONFESSIONS: A LIVE PODCAST | WEDNESDAY, 8:00 – 9:00AM
"I can't believe they just said that!" "You can't make this stuff up!" As an HR Professional you've likely thought "even if I could share this story, no one would believe me." In an exclusive partnership with SHRM-Atlanta, Brandon Smith, "The Workplace Therapist," will be live-streaming his podcast (The Brandon Smith Show) with co-host, HR Leader and Executive Coach Karen Hilton, SHRM-SCP, ACC, ELI-MP. The topic: "HR Confessions – The Stories We Don't Talk About."
You won't want to miss this opportunity to be a fly on the wall as these two seasoned HR practitioners tackle real life tough calls and sticky situations. You may laugh, gasp or be inspired but you are sure to come back for more! *No individual or company names will be used to ensure confidentiality.
If you've registered for the conference we encourage you to join us in networking before, during and after the event! Spread the word and let everyone know that you'll be at SOAHR 2018 to connect with other attendees, speakers and sponsors. Click to share any of the images below on social media – or right click and 'Save As' to place in your email signature block.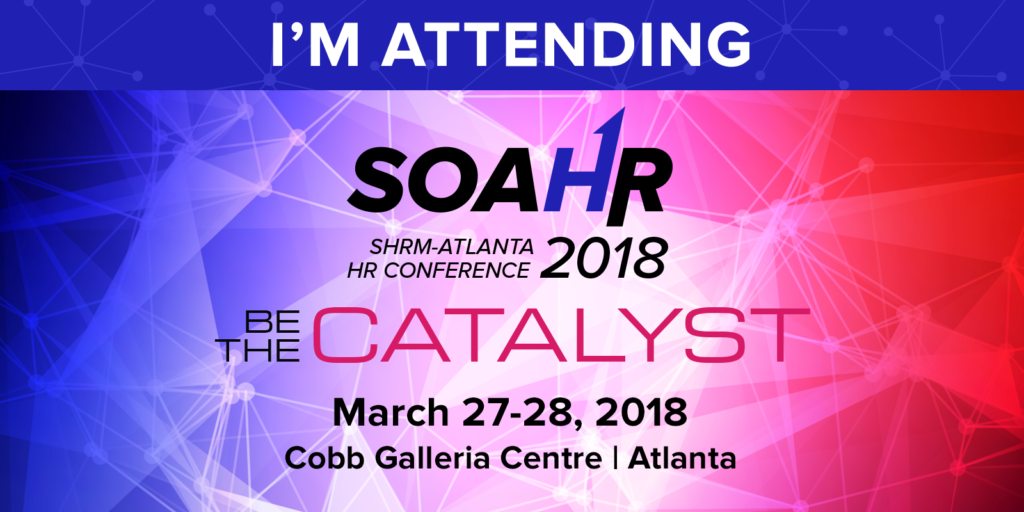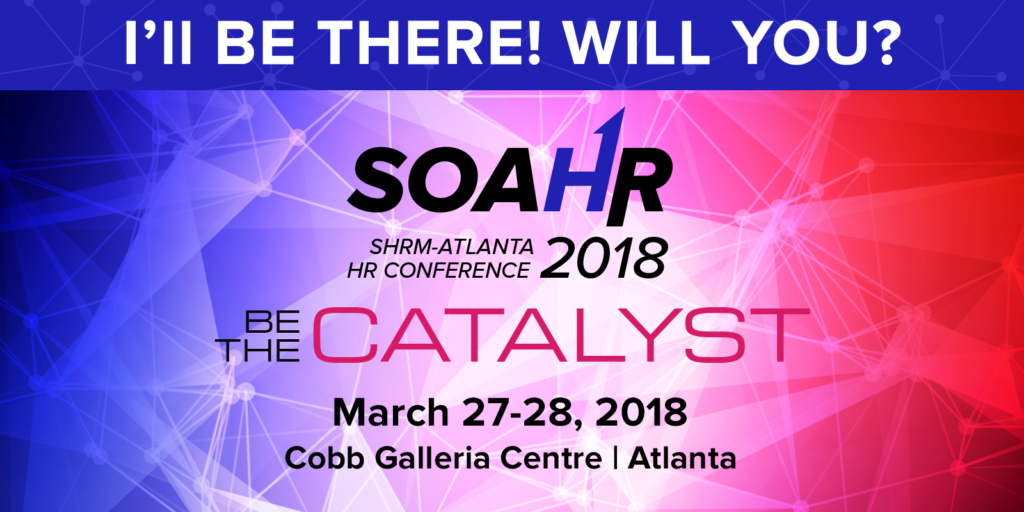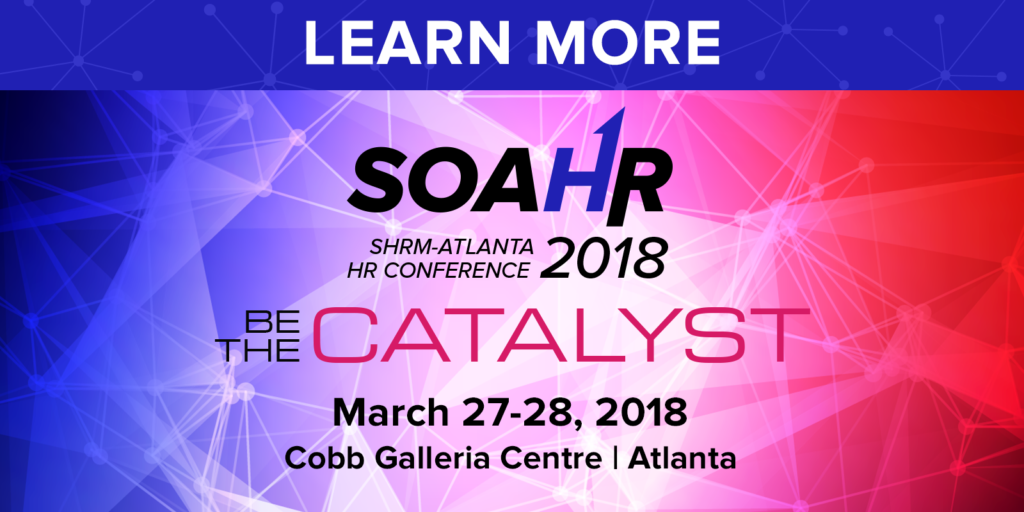 Cobb Galleria Directions & Travel
VENUE
SOAHR 2018 will be held at the Cobb Galleria Centre, one of Atlanta's premier conference facilities, which is conveniently located at the intersection of I-285 and I-75. Cobb Galleria Centre connects directly to the Renaissance Atlanta Waverly Hotel. Shopping variety is as convenient as the Cobb Galleria Centre's on-site specialty mall; Cumberland Mall, directly across the street and accessible by a pedestrian bridge; and The Battery Atlanta, connected via pedestrian bridge.
Cobb Galleria Centre is located at 2 Galleria Parkway, Atlanta, GA 30339.
Click here for driving directions.
PARKING
Parking will be available for a discounted rate of $5 per day.