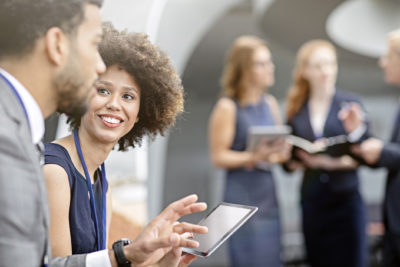 We're excited to introduce Chat Rooms at SOAHR 2019! Chat Rooms are dedicated networking areas in the Exhibit Hall created especially for those with similar interests.
These Chat Rooms will provide you with the opportunity to focus on strengthening your professional connections and expanding your network.
Be sure to add a visit to the Chat Rooms to your conference schedule!
Tuesday, March 26
Blue Chat Room
Time
Topic
Who Should Attend
Description
12:20 PM – 1:30 PM
(Lunch)
Certified or Certifiable?!?
HR Professionals Who've Achieved or are Seeking Certification
SHRM Certification Prep Students, Alumni, and Prospective Learners – join your peers for lunch, share your experiences, and offer support to fellow certification seekers. This is your chance to connect and commiserate, no textbooks required!
3:45 PM – 4:15 PM
SHRM-Atlanta Legal & Legislative Focus Group
HR with a Focus in Legal & Legislative
If Legal is your passion (or your everyday) join your Legal Peers and let us know what programs you'd like to see in 2019.
Green Chat Room
Time
Topic
Who Should Attend
Description
12:20 PM – 1:30 PM
(Lunch)
#FuelYourFuture with the SHRM-Atlanta Rising Leaders
Rising Leaders (Ages 35 and under)
If you missed the last few sold out Rising Leaders programs, don't miss this opportunity to connect with your peers. Join us for lunch, make a new friend, and find out how you can Fuel Your Future with the SHRM-Atlanta Rising Leaders.
3:45 PM – 4:15 PM
Celebrate Your Accomplishments with The SHRM-Atlanta Awards and Recognition Team
All HR Professionals
Learn how SHRM-Atlanta can help celebrate you, enhance your professional brand, and continue to elevate the perception of the HR profession.
---
Wednesday, March 27
Blue Chat Room
Time
Topic
Who Should Attend
Description
7:00 AM – 9:00 AM
HR Helping HR
HR Professionals in job transition, (transitioning into HR from another profession), those looking to move into a new role in HR, individuals who are new to the Atlanta market
The HR Helping HR committee is looking for suggestions and recommendation on how to create programs and content that will best serve the SHR-Atlanta membership. The session will be set up to provide feedback and generate new ideas.
11:15 AM – 12:30 PM
(Lunch)
You Can't Make That Up – HR
All HR Professionals
Join peers for a lively lunch where we will listen to and share the stories that only HR can tell. No individual names or organizations will be shared.
Green Chat Room
| Time | Topic | Who Should Attend | Description |
| --- | --- | --- | --- |
| 7:00AM – 9:00 AM | Breakfast with the SHRM-Atlanta CEO | Those interested in Membership & Volunteering | Learn the benefits of SHRM-Atlanta membership, hear positive volunteering stories, and have the opportunity to ask questions of the current members and volunteers. |
| 11:15 AM – 12:30 PM (Lunch) | SHRM-Atlanta Mentoring Community | Mentor Community | Being a mentor or obtaining a mentor can be very beneficial to your career development. If you are interested in learning about how the new SHRM-Atlanta Mentoring Community could benefit you, grab your lunch and join us to get your questions answered. |